Wito – Joe JAckson – Big World (1986)
Desde los primeros 80 Joe Jackson (no confundir con ningún
otro jackson por favor) incansable músico, que siempre se ha sabido rodear
de grandísimos músicos, nos ha deleitado con increíbles
discos.
El doble L.P. de 1986 (Its a) Big World, elegido como botón
de muestra está grabado en directo en el «Roundabout Theatre»
de Nueva York en tres sesiones, pidiendo a los asistentes que no aplaudieran
al final de cada tema para que pareciera grabado en estudio. El resultado es
un disco de estudio con la fuerza de un disco en directo pero sin aplausos (o
al reves, jeje). Vamos Una locura que le salió pero que muy bien: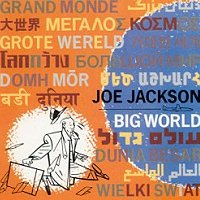 1.
Wild West 4:37
2. Right And Wrong 4:35
3. (It's A) Big World 4:44
4. Precious Time 3:23
5. Tonight And Forever 2:31
6. Shanghai Sky 5:10
7. Fifty Dollar Love Affair 3:38
8. We Can't Live Together 5:25
9. Forty Years 4:26
10. Survival 2:19
11. Soul Kiss 4:44
12. The Jet Set 3:50
13. Tango Atlantico 2:58
14. Home Town 3:12
15. Man In The Street 5:05
Total running time: 60:49
---
Txus – Transformer – Lou Reed (1972)
Transformer creo que
estarían entre mis cinco discos preferidos. Unas guitarras envolventes
que te enganchan desde la primera canción hasta la última. David
Bowie, productor del disco, supo afinar el sonido del disco para que sonase
completamente redondo.
El disco tiene canciones con mucho ritmo y muy divertidas, y canciones más
lentas que te ponen la piel de gallina. Desde un trasgresor "Vicious",
una sobrecogedora "perfect day", una impresionante "Satellite
of love" (nostálgica para algunos), una simpática "New
York Telephone Conversati"… así hasta once impresionantes canciones
que ninguna tiene desperdicio.
Resumiendo, si alguien me consigue el vinilo le pago lo que quiera.
Estos son los créditos del disco (en ingles, soy así de chulo)
David Bowie – Vocals, Vocals (bckgr), Producer, Mixing
Lou Reed – Guitar, Keyboards, Vocals, Mixing
Ronnie Ross – Saxophone, Sax (Baritone)
Herbie Flowers – Bass, Tuba, Arranger, Guitar (Bass), Multi Instruments
Mick Ronson – Guitar, Piano, Recorder, Vocals (bckgr), Multi Instruments, Producer,
String Arrangements, Mixing, Bass Arrangement
Ken Scott – Engineer, Mixing
Arun Chakraverty – Mastering
Barry DeSouza – Drums
Ritchie Dharma – Drums
John Halsey – Drums
Mike «Clay» Stone – Engineer, Mixing
Thunderthighs – Vocals, Vocals (bckgr)
Klaus Voormann – Bass, Guitar (Bass)
John Halzey – Drums
Mick Rock – Photography
Karl Stoecker – Photography
Y el listado de canciones:
1. Vicious (Reed) – 2:55
2. Andy's Chest (Reed) – 3:17
3. Perfect Day (Reed) – 3:43
4. Hangin' Round (Reed) – 3:39
5. Walk on the Wild Side (Reed) – 4:12
6. Make Up (Reed) – 2:58
7. Satellite of Love (Reed) – 3:40
8. Wagon Wheel (Reed) – 3:19
9. New York Telephone Conversation (Reed) – 1:31
10. I'm So Free (Reed) – 3:07
11. Goodnight Ladies (Reed) – 4:19
---
Cali – Los Coronas – Caliente Caliente.
Pues eso, el cuarto disco de los Coronas (si contamos su anterior recopilatorio)
es de lo que más estoy escuchando ahora. 14 pedazo de canciones instrumentales
(4 de ellas versiones, concretamente de The Beatles, Bill Dogget, Dick Dale
y Johnny Rivers) que mezclan el rockn'roll más clási